Meet members of Surge Cooperative on the banks of the Channelsea, to clean up the riverside garden and talk about plans for restoration.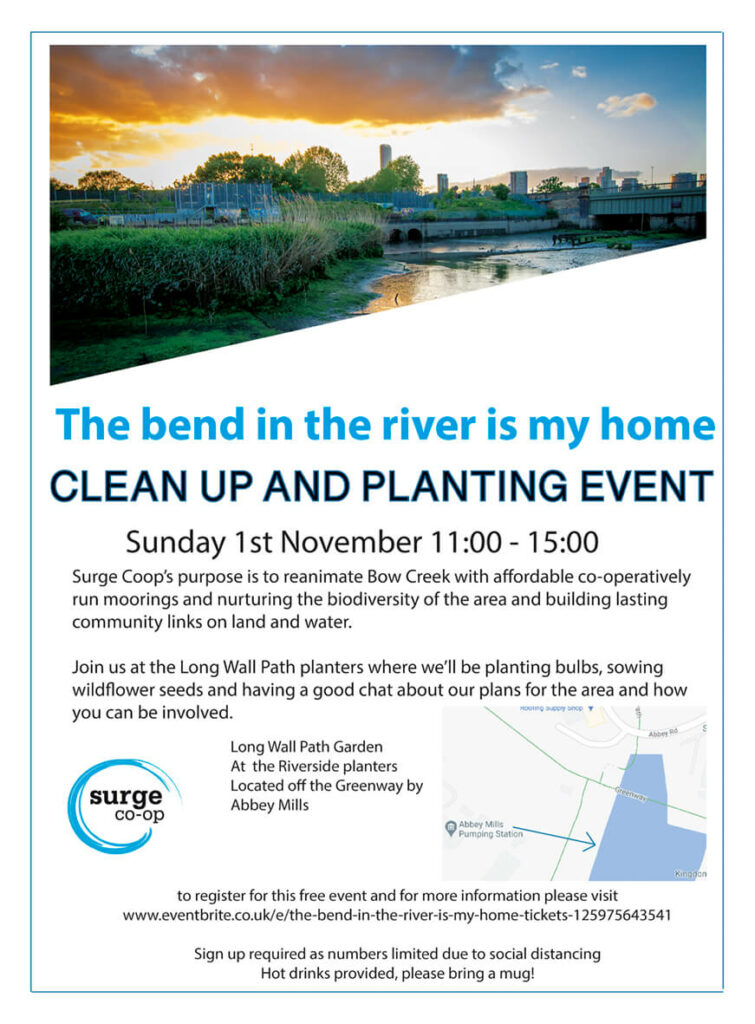 At our first site on the Channelsea River we have been engaging with the local community with a variety of events and river clean ups under the banner 'The Bend in the River is my Home'. With these we hope to share with others our vision and love of engaging with the arts and the environment: ultimately enriching our ties to each other and the landscape.
Join us at the Long Wall Path planters where we'll be planting bulbs, sewing wildflower seeds and having a good chat about our plans for the area and how you can be involved.
Here is a map link to the meeting point:
https://goo.gl/maps/NNgSwBEg3TYrUXn2A
We will provide water and teas – please bring your own cup!
Through our work we always return to the 'Six R's'. The first three we all know well – reduce, reuse, recycle – and underpin all our daily activities at Surge, inspiring us to think about what we can use around us to create safe habitats for ourselves and others of all kinds. And the second three – resilience, relinquishment and restoration – are perhaps less well known, and encourage us to think about how can we create resilience in the structures we care about, relinquish actions that cause harm, and restore knowledge we may have forgotten from the past to help us move forward into a brighter future.
Covid-19 measures in place:

Please email us to register your attendance
– We will be practicing physical distancing, please respect the 2m rule where possible
– Hand santizer and wipes will be available – we will avoid sharing tools where possible and will sanitise between use when necessary
– Please wear a face covering if you feel comfortable, however as we are outside and practicing physical distancing this is not mandatory
– Try to avoid using public transport to attend the event where possible, if you do use public transport remember to wear a face covering if you are able