Join members of Surge Co-operative for a walk, talk and litter-pick along the Channelsea River, followed by an invertebrate survey.
Sat July 16 2022
10.00 am – 1pm
Three Mills Park E15 2RF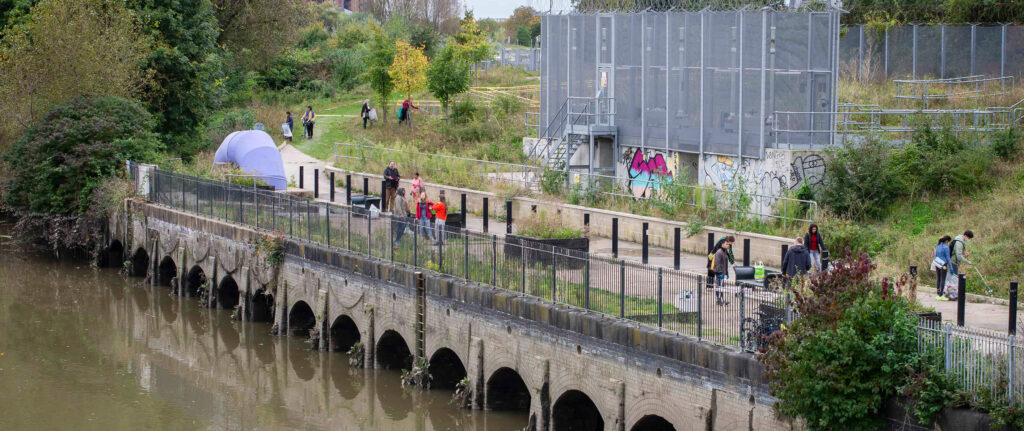 About this event
For Thames 21's 'London's Rivers Week 2022', Stephen Shiell and Hannah White, artists and members of Surge Co-operative, will lead a walk, talk and litter-pick along the Channelsea river, followed by an invertebrate survey session with Russell Miller, ecologist and invertebrate specialist, to discover the species making their home by the river at the Long Wall path ecology garden site.
Join us for an afternoon of slowing down to connect, taking care and observing our environment, experiencing how our time in place can be a way of evolving and enriching our collective selves.
We are also excited to have local artist Lydia Thornley coming down to document the day with her beautiful sketches! Have a look at her work here.
This event continues our 'River Walk • River Talk' series, gathering on the river in a multi-sensory way; to listen, inquire and restore.
We will meet at Three Mills Park, then walk along the Channelsea river together, discussing the river, its history and ecology, a meandering chat as we litter pick along the river, gathering detritus and good feelings from restoring a sense of balance to this place so many species call home.
The walk will finish at the Long Wall Path ecology garden site on the banks of the Channelsea next to Abbey Mills pumping station. Here we will spend a couple of hours with ecologist and invertebrate specialist Russell Miller, discovering and learning about some of the smaller species that live on the site. We will also chat about the community orchard we are planting this year on the site and how you can get involved!
What to bring:
• A mug – we will provide the tea
• Lunch if you will get hungry – we will provide snacks
MEET AT 9.45 – at the edge of the Three Mills Park circular green, by the bridge.
Access:
The walk is approximately a mile long and we will be taking it slow as we litter pick and talk. There are no steps but the river path is an uneven stony track.
Knowing access to blue/green space is vital for well-being, Surge endeavor to make our events and community actions as accessible as possible and improving accessibility is built into our long-term goals for the area. Currently, there are wheelchair-accessible paths around the Long Wall Path site, and we invite people to communicate any access needs they may have. We can provide information in other formats and audio/visual journeys in advance if requested.
Please note, that there are currently no public toilet facilities in the vicinity.
If you'd like to discuss your access further needs please contact: info@surge.coop
This event is supported by the Mayor of London's 'Grow back Greener' fund.